I have written 20 happy Monday quotes for you to inspire and motivate you throughout the week.
You can print it out and paste it as a sticker on your wall.
"Today I will do what others won't, so tomorrow I can accomplish what others can't."

– Jerry Rice
"The world steps aside for the man who knows where he is going."

-James Allen
"The fruit of your own hard work is the sweetest."

-Deepika Padukone
"Hard work is a prison sentence only if it does not have meaning. Once it does, it becomes the kind of thing that makes you grab your wife around the waist and dance a jig."

-Malcolm Gladwell
"Happiness is not in the mere possession of money; it lies in the joy of achievement, in the thrill of creative effort."

-Franklin D. Roosevelt
"The world makes way for the man who knows where he is going."

-Ralph Waldo Emerson
"Always be yourself and have faith in yourself. Do not go out and look for a successful personality and try to duplicate it."

-Bruce Lee
"If you have a dream, don't just sit there. Gather courage to believe that you can succeed and leave no stone unturned to make it a reality."

-Dr Roopleen
"Obstacles can't stop you. Problems can't stop you. Most of all, other people can't stop you. Only you can stop you."

-Jeffrey Gitomer
"Some succeed because they are destined to, but most succeed because they are determined to."

-Henry van Dyke
"The hustle brings the dollar. The experience brings the knowledge. The persistence brings success."

-Ross Simmonds
"When you live for a strong purpose, then hard work isn't an option. It's a necessity."

Steve Pavlina
"There will be obstacles. There will be doubters. There will be mistakes. But with hard work, there are no limits."

Michael Phelps
"Once you make a decision, the universe conspires to make it happen."

-Ralph Waldo Emerson
"The best way to learn is by doing. The only way to build a strong work ethic is getting your hands dirty."

-Alex Spanos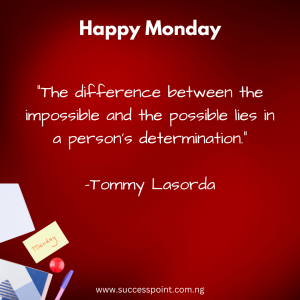 "The difference between the impossible and the possible lies in a person's determination."

-Tommy Lasorda
"I never dreamed about success. I worked for it."

-Estee Lauder
"Hard work without talent is a shame, but talent without hard work is a tragedy."

-Robert Half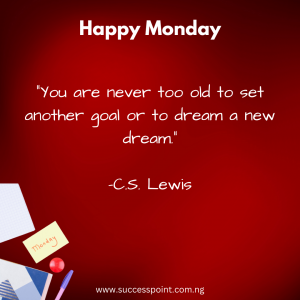 "You are never too old to set another goal or to dream a new dream."

-C.S. Lewis
"I'm a success today because I had a friend who believed in me and I didn't have the heart to let him down."

-Abraham Lincoln
Mondays are special days because they signify the begining of the week and that is the best day to plan your week to make it a success.
Treat your Mondays special by reading and digesting these quote and your week will be a success.